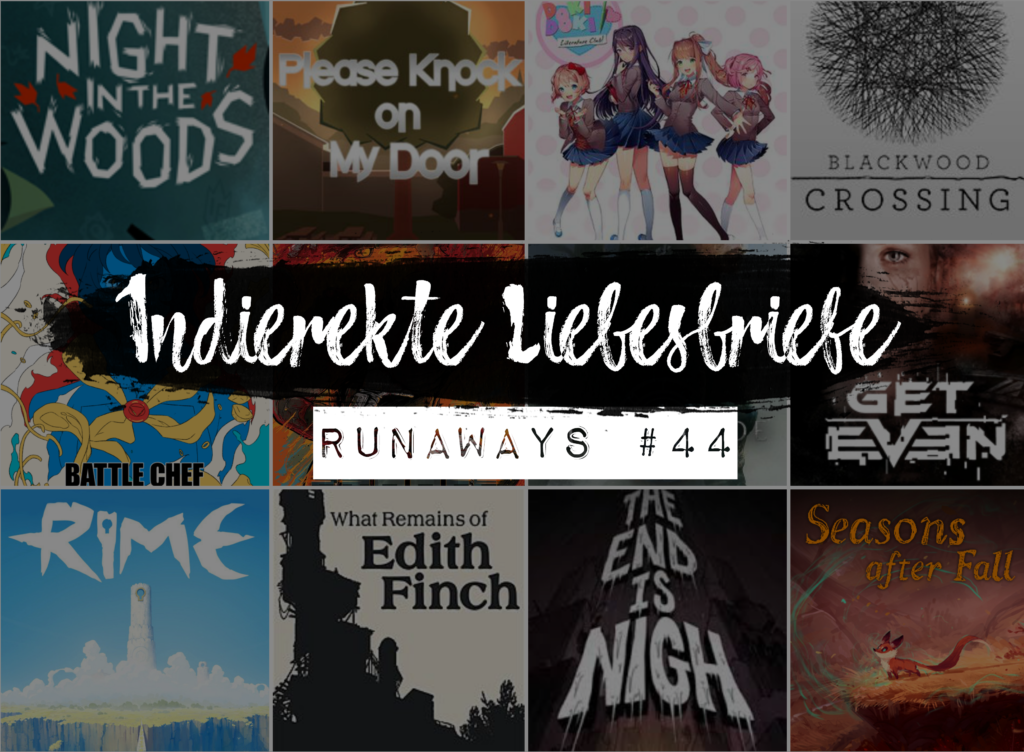 Die Runaways sind zurück mit ihrer ersten Ausgabe im neuen Jahr! Im Podcast blickt Caro zusammen mit Daniel (Lost levels) und Pascal (Language at Play) zurück auf das Indie-Jahr 2017 und stellen sich allerlei Thematiken und Debatten, die im vergangen Jahr die Runde machten. So wird beispielsweise über die Wichtigkeit von Trigerwarnungen in Videospielen gesprochen, die Cuphead-Debatte wird aufgegriffen oder es wird allgemein über die Diversität im Indie-Bereich geredet.
TRIGGERWARNUNG: Ab Minute 56 bis 1:15 reden wir über das Thema Depressionen und die Portraitierung von Tod und Suizid in Videospielen. Dabei wird "Töte Mädchen lügen nicht" angesprochen und auch (mit erneuter Warnung davor) explizites ansprechen des Thema Suizids. Wenn ihr euch das Thema belastet und triggern kann, take care und skippt den Part lieber. Es wird sehr emotional. Falls du irgendwie Hilfe brauchst, dich das emotional zu sehr trifft und fertig macht, bekommst du unter dieser Nummer Hilfe: 
Ähnlich wie ihr es aus dem Monatsrückblick kennt, sind einige Perlen der letzten 12 Monate in kleinen Mazen aufgearbeitet worden. Um welche Spiele es sich handelt und wer dieses vorstellt, erfahrt ihr in den Timecodes:
00.15.09 – 00.19.05: The End is Nigh (Miggi – Three Two Play)
00.35.31 – 00.38.02: Seasons after Fall (Redmaker)
00.53.23 – 00.56.35: Hellblade Senua's Sacrifice (Dominik – Zockwork orange)
01.15.25 – 01.18.14: Doki Doki Literature Club! (Pascal – Language at Play)
01.30.01 – 01.33.50: Please Knock on my Door (Marvin – fehlende Hälfte der Runaways)
01.42.23 – 01.46.44: Blackwoods crossing (Dominik – Zockwork orange)
01.51.12 – 01.55.29: What remains of Edith Finch (Caro)
02.06.13 – 02.10.03: RiME (Caro)
02.18.50 – 02.22.12: Night in the Woods (Daniel – Lost Levels)
02.37.57 – 02.40.53: Future Unfolding (Daniel – Lost Levels)
02.50.26 – 02.53.05: STRAFE (Redmaker)
02.58.19 – 03.02.49: Get Even (Yannic – Culturevania)
03.06.33 – 03.11.10: West of Loathing (Pascal – Language at Play)
03.15.28 – 03.17.16: Battle Chef Brigade (Daniel – Lost Levels)
---
Ihr mögt unseren Podcast und wollt uns unterstützen? Da gibt's ein paar Möglichkeiten!
Werdet Patrone und erhaltet exklusive Podcasts
Alternativ könnt ihr uns auch gerne bei PayPal ein Trinkgeld da lassen.
Gebt uns Feedback
Erzählt Freunden, der Familie und Haustieren von uns
Teilt den Podcast in den sozialen Netzwerken
Kauft über unseren Amazon-Affiliat-Link ein (Ihr bezahlt nichts mehr, wir bekommen einen Teil aber gutgeschrieben!)
Wenn ihr uns für den ganzen gratis Content was Gutes wollt – Schaut auf unseren Amazon-Wunschlisten vorbei
Bewertet & rezensiert den Cast bei iTunes
---
Ein kleiner Hinweis an dieser Stelle: Dieser ist einer von drei Podcasts, der diesen Monat erscheint. Grund dafür ist ein erreichtes Patreon-Goal. Vielen Dank an alle Unterstützer! Ansonsten bleibt uns nichts weiter als euch viel Spaß mit dem Podcast zu wünschen.
Podcast: Play in new window | Download