Runaways #24 – Der Quickie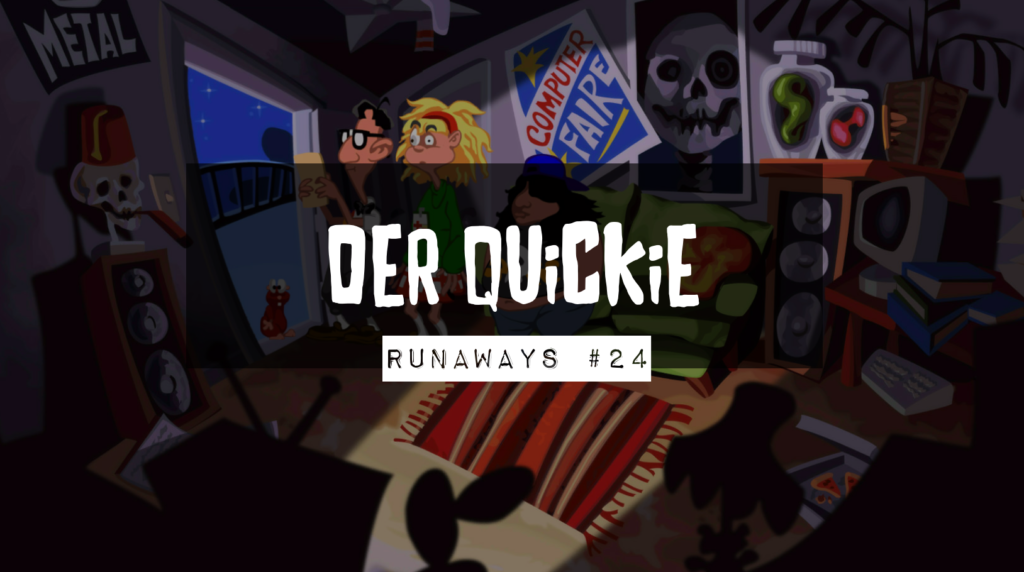 Der Quickie ist genau das, was die Runaways nicht können. Geplant war die kurze Folge aber trotzdem haben die beiden wieder mehr als zwei Stunden für euch parat. Es geht um Meinungen zu Trophy-Systemen und Open Worlds. Es geht aber auch um Zeitfresser unserer Jugend. Caro redet dabei über beispielsweise Die Sims 2, während Marvin seine MMORPG-Phase anschneidet. Das Ganze wurde natürlich wieder vermischt mit vielen kleinen Mazen. Dieses mal debütiert auch die Idee: "Die Maz, die niemand braucht!" Wie auch sonst lohnt es sich also wieder für einen weiteren Flug ins Raumschiff der Runaways einzusteigen und euch unterhalten zu lassen.
Wie auch sonst findet ihr hier noch die Timecodes der Einspieler:
00.17.20 – 00.20.00: Die Maz, die niemand brauch #1
00.29.22 – 00.34.43: Day of the Tentacle (remaster)
00.47.32 – 00.51.27: Witcher 3 – Hearts of Stone
01.07.07 – 01.11.51: Witcher 3 – Blood and Wine
01.20.00 – 01.29.48: Nerve
01.43.33 – 01.59.03: Final Fantasy XIV
02.15.34 – 02.19.45: La La Land
---
Ihr mögt unseren Podcast und wollt uns unterstützen? Da gibt's ein paar Möglichkeiten!
Gebt uns Feedback
Ihr habt ein, zwei Euro in der Hosentasche gefunden und wollt euren Lieblingspodcast etwas gutes? Dann lasst uns bei PayPal ein Trinkgeld da
Erzählt Freunden, der Familie und Haustieren von uns
Teilt den Podcast in den sozialen Netzwerken
Kauft über unseren Amazon-Affiliat-Link ein (Ihr bezahlt nichts mehr, wir bekommen einen Teil aber gutgeschrieben!)
Wenn ihr uns für den ganzen gratis Content was Gutes wollt – Schaut auf unseren Amazon-Wunschlisten vorbei
Bewertet & rezensiert den Cast bei iTunes
---
Wie auch sonst bleibt uns nichts weiter übrig, als euch viel Spaß mit dem Podcast zu wünschen. Wenn ihr mitdiskutieren wollt, schreibt uns doch gerne, wir würden uns freuen!
Podcast: Play in new window | Download