Runaways #28 – Appsolut heldenhaft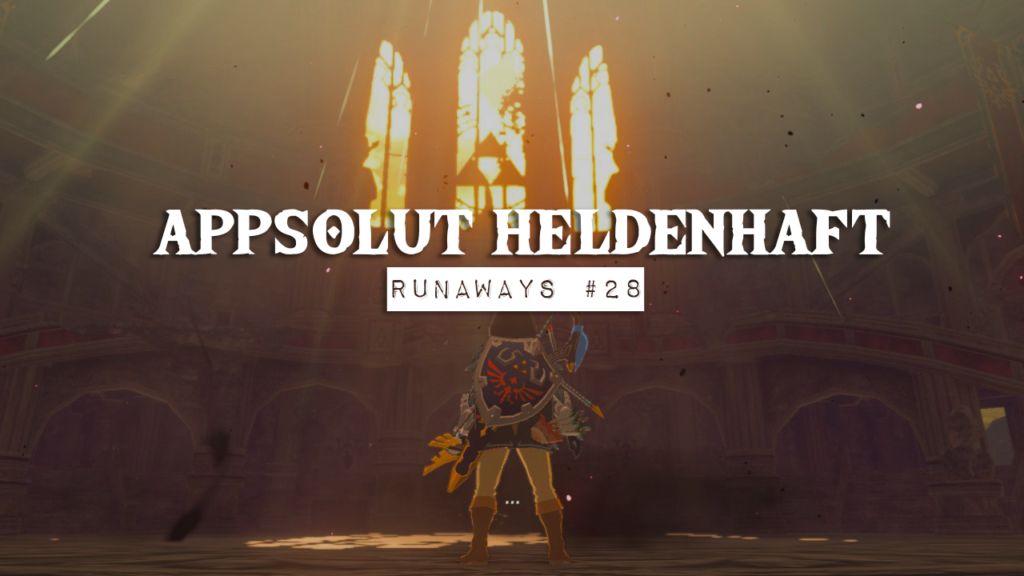 Eure beiden Lieblingspodcaster haben sich in Hyrule verlaufen. In der 28. Ausgabe des Podcasts geht es deswegen über eine Stunde lang nur um das neue Abenteuer von Link in Breath of the Wild. Aber natürlich reicht ein Thema nicht. Im zweiten Teil des Podcasts sprechen die beiden über die verschiedensten Apps. Neben den häufigst verwendeten, wird auch auf Spieleapps eingegangen.
Über Twitter wurdet ihr zusätzlich dazu aufgefordet, eure Screenshots mit allen zu teilen. Marvin hat sich dann mal für euch hingesetzt und das ganze statistisch ausgewertet. Hier findet ihr eure Ergebnisse: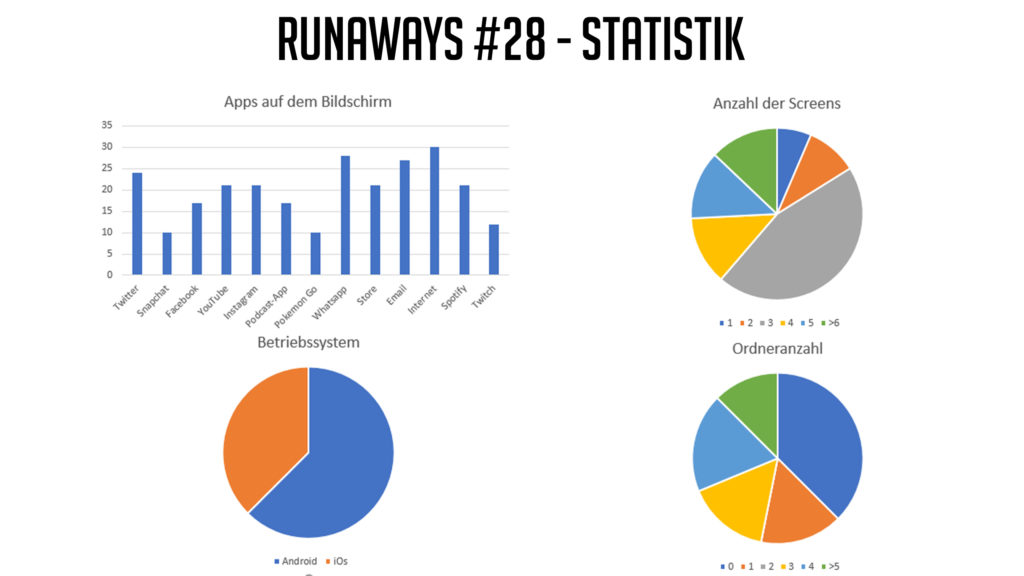 Vermutlich besonders wichtig in dieser Folge sind die Timecodes der Mazen, die wie folgt lauten:
00.16.27 – 00.17.42: Die Maz, die niemand braucht
00.25.30 – 00.36.36: The Legend of Zelda: Breath of the Wild (Caro/ WiiU)
00.36.56 – 00.47.40: The Legend of Zelda: Breath of the Wild (Marvin/ Switch)
01.45.00 – 01.58.25: Horizon Zero Dawn
02.11.31 – 02.18.08: Goodbye Deponia
02.27.21 – 02.37.50: Music News mit Marvin
02.49.07 – 02.52.35: Chefstable
03.02.10 – 03.04.39: Groot & Rocket Racoon
---
Ihr mögt unseren Podcast und wollt uns unterstützen? Da gibt's ein paar Möglichkeiten!
Gebt uns Feedback
Ihr habt ein, zwei Euro in der Hosentasche gefunden und wollt euren Lieblingspodcast etwas Gutes? Dann lasst uns bei PayPal ein Trinkgeld da
Erzählt Freunden, der Familie und Haustieren von uns
Teilt den Podcast in den sozialen Netzwerken
Kauft über unseren Amazon-Affiliat-Link ein (Ihr bezahlt nichts mehr, wir bekommen einen Teil aber gutgeschrieben!)
Wenn ihr uns für den ganzen gratis Content was Gutes wollt – Schaut auf unseren Amazon-Wunschlisten vorbei
---
Die Runaways wünschen euch viel Spaß mit der neuen Folge und hoffen, ihr habt ein wenig Spaß.
Podcast: Play in new window | Download