Runaways #30 – Mini Recap Show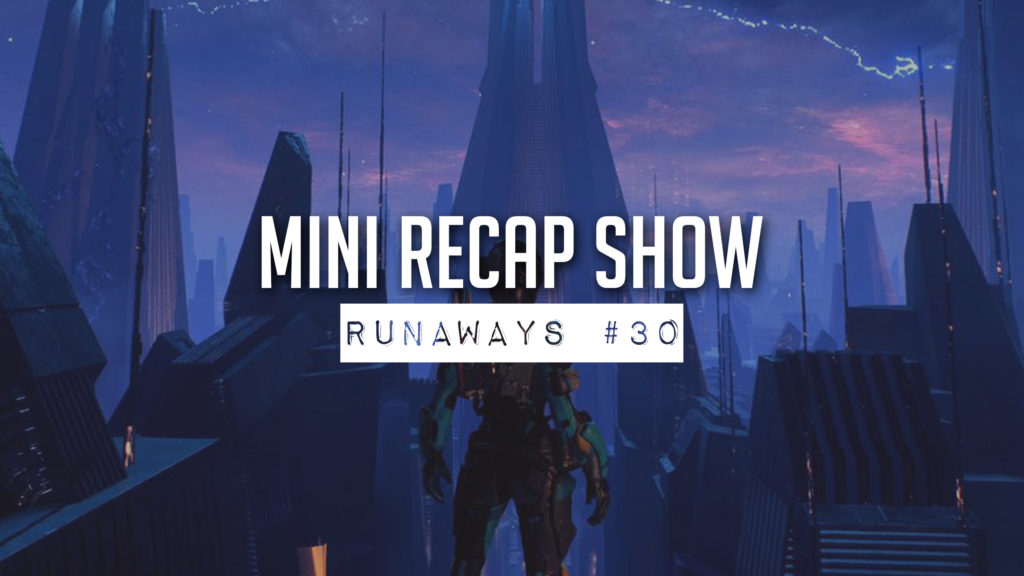 Die Originalbesetzung der Runaways ist in Folge 30 endlich aus dem Podcast-Urlaub zurück und feiert das mit einer kleinen Recap Show. Dabei lassen sie nicht nur Revue passieren über die #SYLGCast-Aktion indem sie jedes Thema sich nochmal einzeln vornehmen und auch eure Meinungen dabei einfließen lassen, sondern haben noch viele weitere Themen dabei. Es wird auch über 13 Reasons Why und den Alltag gesprochen. Außerdem sind wieder einige Mazen dabei. Darunter Mass Effect Andromeda, Lego City Undercover, Batman, Death Parade und viele mehr!
Besonders wichtig bei dieser Folge mal wieder: Die Timecodes. Hier findet ihr nicht nur die Mazen, sondern auch alle Projekte, die bei der Podcastwichtel-Aktion mitgemacht haben.
00.10.49 – 00.13.16: Die Maz, die niemand braucht
00.40.42 – 00.54.14: Mass Effect Andromeda
00.54.16 – 01.04.10: PhiLusophie: Eastereggs
01.04.10 – 01.13.20: Lego City Undercover
01.13.20 – 01.28.11: Runaways: Mash-ups/ Crossover
01.28.11 – 01.36.22: The Legend of Zelda: A Link Between Worlds
01.36.22 – 01.48.00: I Know Your Game: Pokémon GO (hier besprochen)
01.48.00 – 01.54.38: Death Parade Vol. 2
01.54.38 – 02.06.41: Spielgefühl: Emotionale Spiele
02.06.41 – 02.14.33: Batman: Auf dem Weg ins Niemandsland Band 1
02.14.33 – 02.33.12: PlayTogether: Spieleinflation
02.33.12 – 02.38.36: Armada – Ernest Cline
02.38.38 – 02.45.39: Pixelfrauen/ Voxelboys: Videospielhelden
02.45.40 – 02.51.57: Civil War 2 Sonderband 1 (Spider-Man)
02.52.00 – 03.03.37: Zockwork Orange: Crash Bandicoot
---
Ihr mögt unseren Podcast und wollt uns unterstützen? Da gibt's ein paar Möglichkeiten!
Gebt uns Feedback
Ihr habt ein, zwei Euro in der Hosentasche gefunden und wollt euren Lieblingspodcast etwas Gutes? Dann lasst uns bei PayPal ein Trinkgeld da
Erzählt Freunden, der Familie und Haustieren von uns
Teilt den Podcast in den sozialen Netzwerken
Kauft über unseren Amazon-Affiliat-Link ein (Ihr bezahlt nichts mehr, wir bekommen einen Teil aber gutgeschrieben!)
Wenn ihr uns für den ganzen gratis Content was Gutes wollt – Schaut auf unseren Amazon-Wunschlisten vorbei
---
Wie auch sonst wünschen wir euch sehr viel Spaß mit der neuen Folge der Runaways. Gerne könnt ihr auch dem Twitter-Account von Support Your Local Gaming Blog folgen *klick*. Oder direkt die Website besuchen & euch dort für den Newsletter eintragen, um nichts mehr zu verpassen.
Podcast: Play in new window | Download