Runaways #36 – Leicht zu übersehen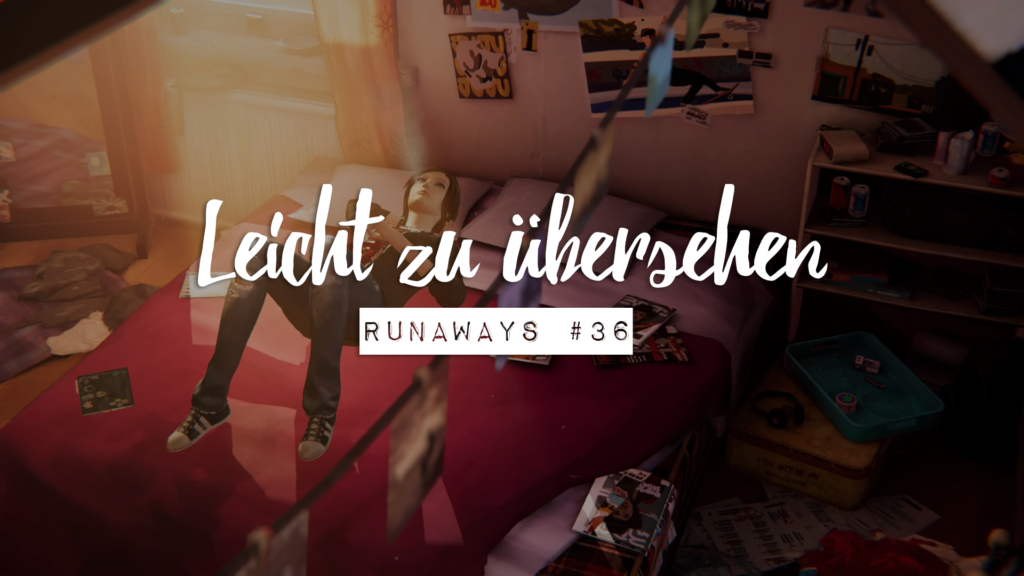 Das Studio der Runaways wird gerade renoviert. Deswegen haben sich eure beiden Lieblingspodcaster in ein Hostel verschanzt, ihre Betten gegenübergestellt und sprechen, leicht verspätet, über den Monat August. Aber natürlich ist nicht das wechselnde Wetter Thema, sondern sie haben sich mal wieder etwas ganz besonderes überlegt. Neben Reviews zu Life is Strange, Die Säulen der Erde und der neuen Casper Platte redet das ungleiche Duo über Nebencharaktere und Sidekicks in Videospielen. Was ist ein Nebencharakter und wie unterscheidet er sich vom Sidekick? Was macht diese gut/ schlecht? Diese und viele weitere Fragen versuchen die Beiden im Cast zu beantworten.
Wie von Caro angesprochen hier nochmal die Einladung für Discord. Jeder ist herzlichst willkommen!
Und das angesprochene Overwatch x Netflix Video.
Aber natürlich gibt es auch wieder die Timecodes der Folge:
00.15.05 – 00.28.21: Life is Strange: Before the Storm
00.42.11 – 00.50.01: The Long Dark
01.00.48 – 01.09.18: Die Säulen der Erde Kapitel 1
01.27.12 – 01.30.24: Casper – Lang Lebe der Tod
01.41.49 – 01.45.33: Gavin Extence – Alex Woods
01.57.09 – 01.58.55: Coasts – This Life Vol. 1
02.06.43 – 02.19.17: Digimon Adventure Tri Chapter 3
---
Ihr mögt unseren Podcast und wollt uns unterstützen? Da gibt's ein paar Möglichkeiten!
Werdet Patrone und erhaltet exklusive Podcasts
Alternativ könnt ihr uns auch gerne bei PayPal ein Trinkgeld da lassen.
Gebt uns Feedback
Erzählt Freunden, der Familie und Haustieren von uns
Teilt den Podcast in den sozialen Netzwerken
Kauft über unseren Amazon-Affiliat-Link ein (Ihr bezahlt nichts mehr, wir bekommen einen Teil aber gutgeschrieben!)
Wenn ihr uns für den ganzen gratis Content was Gutes wollt – Schaut auf unseren Amazon-Wunschlisten vorbei
Bewertet & rezensiert den Cast bei iTunes
---
Wir dürfen euch an der Stelle noch viel Spaß mit dem Podcast wünschen. Genießt die harmonische Stimmung und die unserer Meinung toll gewordene Diskussion um das Thema, dass sich vielleicht erstmal wenig spannend anhören mag. (Und entschuldigt Marvins Ton. Ugh. Nächste Mal wieder besser!)
Podcast: Play in new window | Download