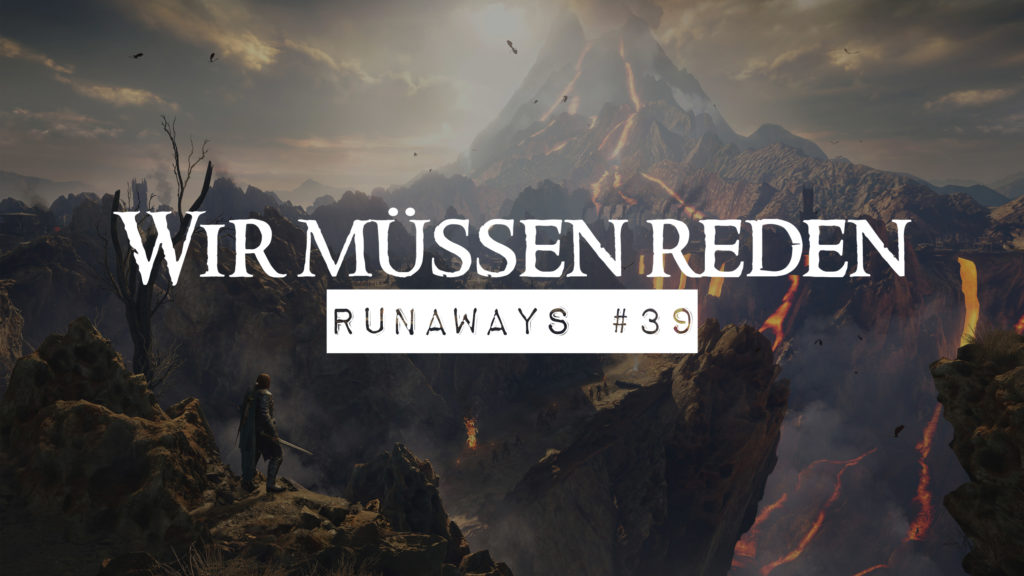 Obwohl das Jahr bereits mit großartigen Spielen startete, fängt die Flut an neuen Releases gerade erst an. Grund genug für eure beiden Lieblingspodcaster die wichtigsten Titel für euch aufzuarbeiten und sie euch vorzustellen. Präsentiert werden euch deshalb das umstrittene Mittelerde: Schatten des Krieges, das witzige South Park: Die rektakuläre Zerreißprobe, das unterschätzte The Inner World 2 und vieles mehr. Runaways #39 dreht sich dabei um das Thema Kommunikation in Videospielen. Dabei besprochen werden unterschiedliche Aspekte wie die Kommunikation zweiter Charaktere im Spiel, die Absprache zwischen zwei Spielern oder wie das Medium selbst mit dem Spieler versucht sich auszutauschen.
Ein großes Anliegen wäre es, wenn ihr an unserer Zufriedenheitsumfrage teilnehmen würdet. Dauert nicht lange, ihr gestaltet den Podcast aktiv mit und hilft uns, uns zu verbessern!
Natürlich gibt's auch wieder die Timecodes der Show:
00.15.16 – 00.24.25: Life is Strange: Before the Storm Ep. 2
00.32.31 – 00.40.52: Pokémon Tekken DX
00.52.05 – 00.56.44: Mario & Luigi Superstar Saga + Bowsers Schergen
01.07.33 – 01.12.31: South Park: Die rektakuläre Zerreißprobe
01.22.53 – 01.49.34: The Evil Within 2 + Horrorspiele mit Micha von InsertMoin
01.59.18 – 02.12.00: The Inner World 2: Der letzte Windmönch
02.20.00 – 02.28.31: Mittelerde: Schatten des Krieges
02.43.19 – 02.49.52: Metroid: Samus Returns
02.55.16 – 03.00.30: Qualityland von Marc Uwe Kling
03.07.08 – 03.09.38: Deadpool: Affentheater
---
Ihr mögt unseren Podcast und wollt uns unterstützen? Da gibt's ein paar Möglichkeiten!
Werdet Patrone und erhaltet exklusive Podcasts
Alternativ könnt ihr uns auch gerne bei PayPal ein Trinkgeld da lassen.
Gebt uns Feedback
Erzählt Freunden, der Familie und Haustieren von uns
Teilt den Podcast in den sozialen Netzwerken
Kauft über unseren Amazon-Affiliat-Link ein (Ihr bezahlt nichts mehr, wir bekommen einen Teil aber gutgeschrieben!)
Wenn ihr uns für den ganzen gratis Content was Gutes wollt – Schaut auf unseren Amazon-Wunschlisten vorbei
Bewertet & rezensiert den Cast bei iTunes
---
Wie auch sonst freuen wir uns auf eure Meinung zum Thema! Ohne aber groß weitere Worte verlieren zu wollen, wünschen wir euch viel Spaß mit dem Podcast!
Podcast: Play in new window | Download