Gamescom 2022 – Part 1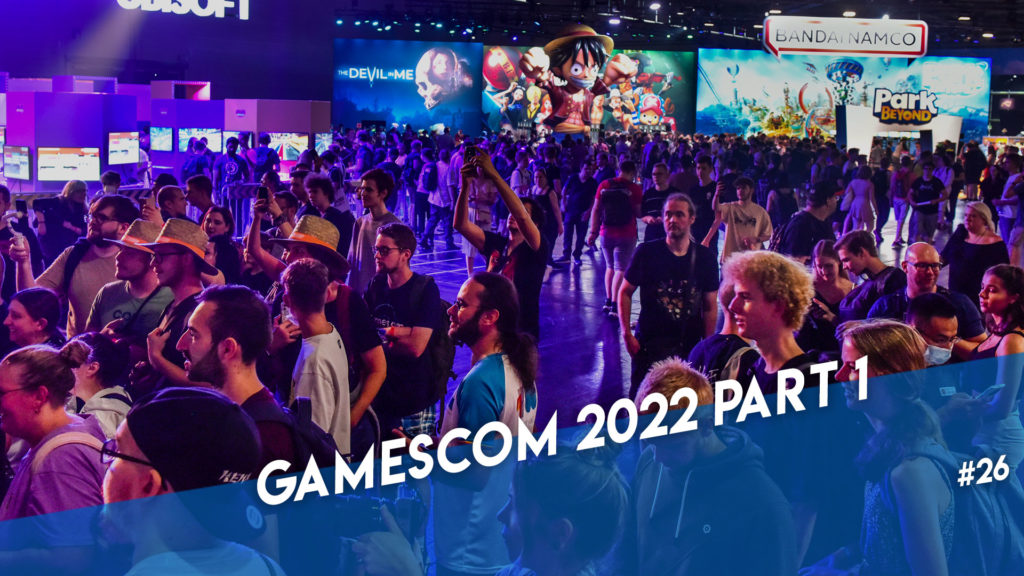 Die größte Spielemesse Europas, die Gamescom, ist zurück. Und natürlich haben wir es uns nicht nehmen lassen, in Köln vor Ort zu sein und uns die neusten Spieleneuheiten anzuschauen. Insgesamt bieten wir euch in 2 Podcasts je 13 Spiele mit 3 besonderen Highlights, auf die ihr euch freuen könnt. Von AAA bis Indie ist alles dabei – und das macht die Gamescom 2022 auch so besonders. Wir sind hyped und hoffen, ihr freut euch auch.
Eine Sendung voller Themen und du bist auf der Suche nach dem einen, das dich interessiert? Dann folgen nun die Timecodes:
00:01:58 – One Piece Odyssey
00:04:31 – Dragon Ball – The Breakers
00:05:38 – Jojo's Bizzare Adventure: All-Star Battle
00:06:43 – The Dark Pictures Anthology: The Devil in Me
00:08:13 – Park Beyond
00:09:41 – Moderation
00:11:56 – One More Gate
00:15:41 – Capes
00:17:00 – Miasma
00:18:14 – Grimoire Groves
00:19:13 – Anger Foot
00:20:03 – Moderation
00:21:39 – Tower of Fantasy
00:22:10 – Wild Woods
00:24:02 – Fall of Purcupine
00:26:02 – Abmoderation
Du liebst die Berichterstattung der Gamescom 2022 und willst uns deshalb nachhaltig unterstützen? Dann klick dich gerne auf Patreon rein. Nur 2€ im Monat & du bist dabei!
Andere Wege wir du uns unterstützen kannst:
Alternativ kannst du uns auch gerne bei PayPal ein Trinkgeld da lassen.
Gib uns Feedback
Erzähl Freunden, der Familie und Haustieren von uns
Teil den Podcast in den sozialen Netzwerken
Kauf über unseren Amazon-Affiliat-Link ein (Du bezahlst nicht mehr, wir bekommen einen Teil aber gutgeschrieben! Bei allen mit * markierten Links handelt es sich um diese Ref-Links.)
Ein riesiges Herz geht raus an die folgenden Patronen der Unterstützer-Kategorie:
Kennst du schon unsere letzte reguläre Folge? Falls nein, klick gerne hier. Wir wünschen euch viel Spaß mit dem Podcast und freuen uns auf euer Feedback!
MUSIK:
Dontcry, Nokiaa, Deauxnuts, Azec – Chillhop Essentials Summer 2019 – 03 Wavey
Evil Needle – Chillhop Essentials Summer 2019 – 08 Candlelight
Fabich, No Spirit – Chillhop Essentials Summer 2019 – 11 All Together Good Vibes
Hanz – Chillhop Essentials Summer 2019 – 21 Pulse
junior state – Chillhop Essentials Summer 2019 – 13 Nice and Easy3
Leavv – Chillhop Essentials Summer 2019 – 23 Driftwood
middle school – Chillhop Essentials Summer 2019 – 22 wannabe ft. Aso
Misha, cocabona – Chillhop Essentials Summer 2019 – 09 Khaleesi
Monma – Chillhop Essentials Summer 2019 – 16 Fast Travel