Runaways #20 – Ops, I did it again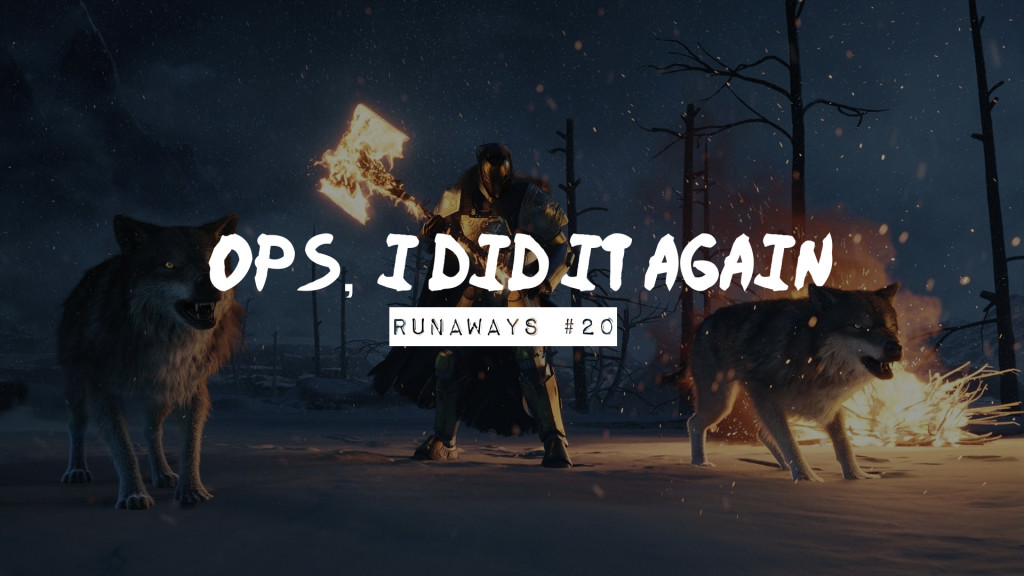 Ops, I did it again – Die Runaways sind zurück! Nachdem wir das Thema Gewohnheiten und Ticks schnell hinter uns gelassen haben, kamen wir noch auf die Schulzeit und den neuen Film aus den Harry Potter-Universum zu sprechen. Außerdem gibt's wieder eine Menge Mazen für euch. Einspieler zu Dragonball, Titanfall, Doctor Who und vielem mehr wurden sorgsam für euch vorbereitet. Wie immer kreativ und emotional verpackt, damit ihr die bestmögliche Podcast-Erfahrung bekommt. Wir bedanken uns auch bei all den Leuten, die bei unserer monatlichen Twitter-Umfrage mitgemacht haben, die sich dieses mal um die nervigste Angewohnheit drehte!
Wie immer findet ihr hier noch die Timecodes der einzelnen Mazen (Bei den Amazon-Links handelt es sich um Ref-Links, mit denen ihr uns und das Projekt unterstützt, ohne einen Cent mehr zu zahlen):
00.04.11 – 00.12.14: Titanfall 2
00.23.16 – 00.31.14: Overwatch Update
00.39.40 – 00.52.57: Dragonball Xenoverse 2
00.56.35 – 01.04.19: Oxenfree
01.39.17 – 01.43.42: Destiny – Rise of Iron
01.52.31 – 02.00.10: Predator Hardware (Headset & Maus)
02.05.59 – 02.09.42: Pokémon Sun
02.13.37 – 02.17.57: Super Treasure Arena
02.25.47 – 02.27.52: Adam Young
02.33.22 – 02.42.13: Seraph of the End Vol. 2 (feat. Feini)
02.50.54 – 02.54.07: Gehe hin, stelle einen Wächter
03.10.50 – 03.17.26: Dr. Strange Vorgeschichte
03.25.57 – 03.28.50: Doctor Who: Der 11. Doktor 2 – Zu Diensten
03.37.10 – 03.40.15: Gewinnspiel
---
Informationen zum Gewinnspiel:
Verlost wird ein Key für die PS4-Version von TellTales Game of Thrones (GoT). Um am Gewinnspiel teilzunehmen retweetet den Gewinnspieltweet, antwortet auf diesen Tweet welcher GoT-Charakter euer liebster ist und wieso und folgt unserem Twitter-Account. Liked den Gewinnspielbeitrag und unsere Seite Auf Facebook und antwortet auch dort auf die Frage, um teilzunehmen. Nur wenn ihr alle Anforderungen für eine Plattform erfüllt, hüpft ihr in den Lostopf. Für die doppelte Gewinnchance einfach auf beiden Seiten teilnehmen.
Teilnahmeschluss ist der 08.12.2016 um 20 Uhr. Gewinnausschüttung findet nur an Personen über 18 Jahre statt. Der Rechtsweg ist ausgeschlossen.
---
Ihr mögt unseren Podcast und wollt uns unterstützen? Da gibt's ein paar Möglichkeiten!
Gebt uns Feedback
Ihr habt ein, zwei Euro in der Hosentasche gefunden und wollt euren Lieblingspodcast etwas gutes? Dann lasst uns bei PayPal ein Trinkgeld da
Erzählt Freunden, der Familie und Haustieren von uns
Teilt den Podcast in den sozialen Netzwerken
Kauft über unseren Amazon-Affiliat-Link ein (Ihr bezahlt nichts mehr, wir bekommen einen Teil aber gutgeschrieben!)
Wenn ihr uns für den ganzen gratis Content was Gutes wollt – Schaut auf unseren Amazon-Wunschlisten vorbei
Bewertet & rezensiert den Cast bei iTunes
Es warten 3 Stunden und 40 Minunten Abenteuer mit den Runaways. Viel Spaß damit!
Podcast: Play in new window | Download