Zu viele gute Spiele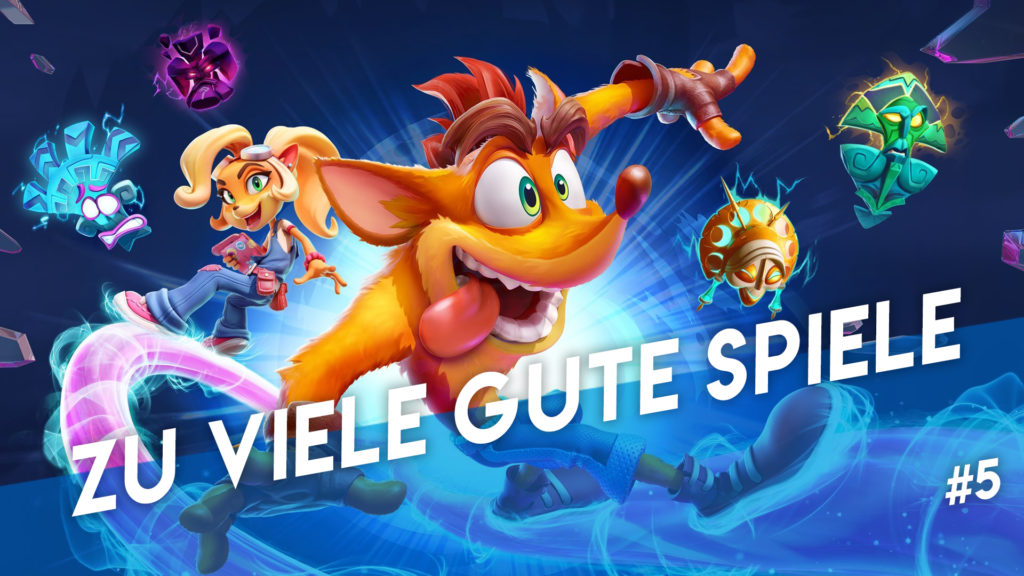 It's about time! Nicht nur wurde es Zeit für ein neues Crash Bandicoot-Spiel, sondern auch für einen neuen Podcast in dem Miene und Marvin sich einfach mal zusammensetzen und über die Spiele reden, die sie in letzter Zeit so gespielt haben. Und das sind.. ganz schön viele. Und auch einige gute, wirklich!
Im Podcast sprechen die beiden ausführlich über ihre Erfahrung mit dem neuen Battle Royal Spellbreak, Miene redet über ihre Faszination mit Among Us und auch Crash Bandicoot ist natürlich ein großes Thema. Kurz anreißen wird Marvin die Spiele Ary and the Secret of Seasons sowie Genshin Impact und schwärmt über das ganz tolle Hades. Mit dem Remake zum Klassiker Trials of Mana, haben die beiden auch wieder eine weitere, längere Besprechung für euch dabei. Und weil der Podcast noch nicht lange genug war, widmen sie sich noch der kommenden Next Gen – Miene hasst ganz öffentlich die Xbox, während Marvin sie mit aller Kraft versucht in Schutz zu nehmen. Zum Schluss schauen beide dann noch: Hey, was erscheint eigentlich dieses Jahr noch? Was werden wir voraussichtlich spielen?
Und wer dann noch nicht auf der Arbeit, in der Uni oder Schule ist, der hat vermutlich einfach einen sehr sehr langen Weg. Und dann tut ihr uns wirklich Leid. Wer den Podcast aber selektiv hören mag, für den haben wir natürlich auch die Timecodes der Sendung:
00:00:00 – Anmoderation + Patreon-Infos
00:04:44 – Hades
00:14:37 – Among Us
00:24:47 – Ary and the Secret of Seasons
00:30:37 – Trials of Mana*
00:53:04 – Genshin Impact
00:57:50 – Crash Bandicoot 4: It's about time*
01:13:07 – Spellbreak
01:36:45 – Meinung: Next Gen
01:54:03 – Welche Spiele interessieren uns 2020?
Gute Spiele führen zu guten Gesprächen? Dann unterstütze uns doch auf Patreon, um unsere Arbeit langfristig zu finanzieren und zu ermöglichen.
Andere Wege wir ihr uns unterstützen könnt:
Bewertet & rezensiert den Cast bei iTunes
Alternativ könnt ihr uns auch gerne bei PayPal ein Trinkgeld da lassen.
Gebt uns Feedback
Erzählt Freunden, der Familie und Haustieren von uns
Teilt den Podcast in den sozialen Netzwerken
Kauft über unseren Amazon-Affiliat-Link ein (Ihr bezahlt nichts mehr, wir bekommen einen Teil aber gutgeschrieben! Bei allen mit * markierten Links handelt es sich um diese Ref-Links.)
Ein riesiges Herz geht raus an die folgenden Patronen der Unterstützer-Kategorie:
Anspieltipp: Im vorherigen Podcast zu Open World, geht Marvin bereits auf Genshin Impact ein.